Fuseki, invented by Donzet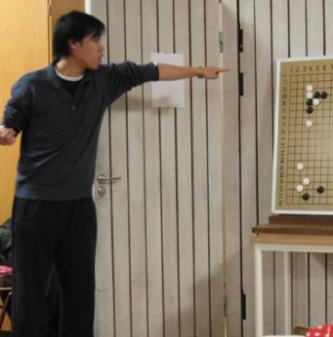 Yesterday we made a 2-2 draw in Russia vs France match in the 2nd round of the ETGC on Pandanet. I decided to post the most exciting game here: Dmitrij Surin vs Frederik Donzet
Whole-board fighting and very unusual fuseki. Not sure, what is the right name. Can we still call it San-ren-sei?
White had a very comfortable start. I was very happy to see White's fuseki till Black 29. Lot of points, very solid position, Black's group on the top is weak. It was a very good game for White. We have many players in Russia, who can finish such games without any risk and big fights. Alexey Lazarev, 6d, for example. But Surin ... He is a big fighter. He cannot play Go peacefully. In the real game White overplayed by deciding to kill Black's top group at W 30. Donzet saved it well. Surin was angry to lose such a good fish, so he overplayed again and again. Finally Donzet punished him by excellent reading and finished the game quickly.
About B's fuseki: I have only one example in my database. Very old game, played by unknown Japanese pros about 80 years ago. Did you see it before? If so, send me game records, please. I plan to prepare KGS+ lecture, explaining ideas of this fuseki
Thank you!